Every year at Mugello, Valentino Rossi sports a new helmet designed by friend and artist Aldo Drudi. The 2016 edition is a must-have for any Rossi fan.
The AGV Limited Edition Corsa R Mugello 2016 Helmet is bright yellow and features the word "Mugiallo" (Giallo means yellow in Italian) around the top of the helmet. On the front below the chin vent is Rossi's signature. Rossi's number 46 is centered on the back along with cartoon pictures of his dogs Cesare and Camilla, and cat Rossano.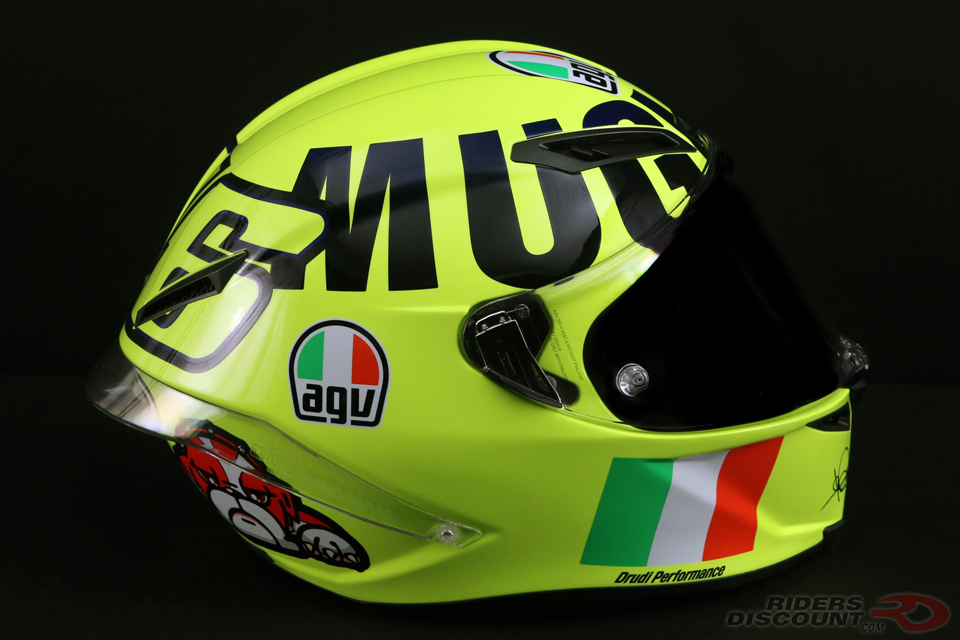 AGV Limited Edition Corsa R Mugello 2016 Helmet: Construction
The AGV Corsa R is very similar to the Pista GP R, but features a tri-composite shell made up of carbon fiber, aramid, and fiberglass.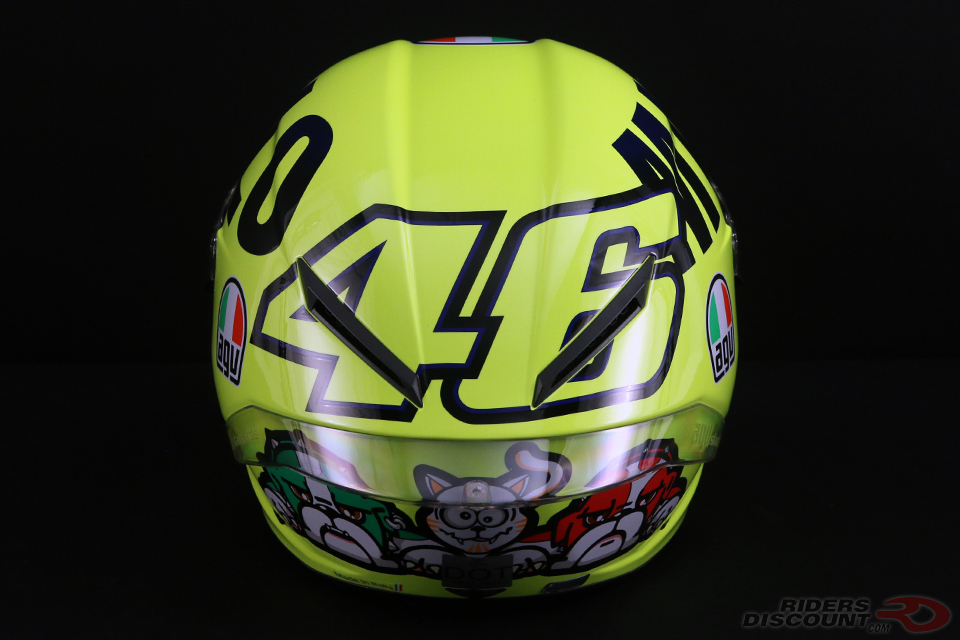 Ventilation
The Integrated Ventilation System (IVS) consists of air ducts that are built into the Corsa R, directing cool air to the rider's head. Unlike the Pista GP R, the Corsa R's forehead vents open and close, allowing you to change their position on the fly. Exhaust vents on the back allow hot, moist air to leave the helmet.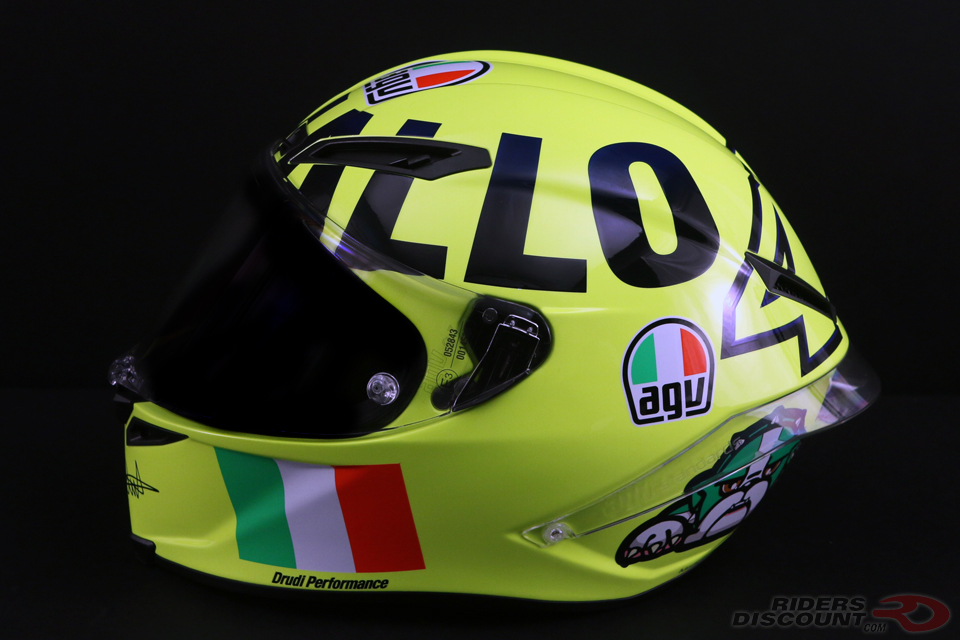 The rear spoiler helps to reduce drag and make the helmet more aerodynamic.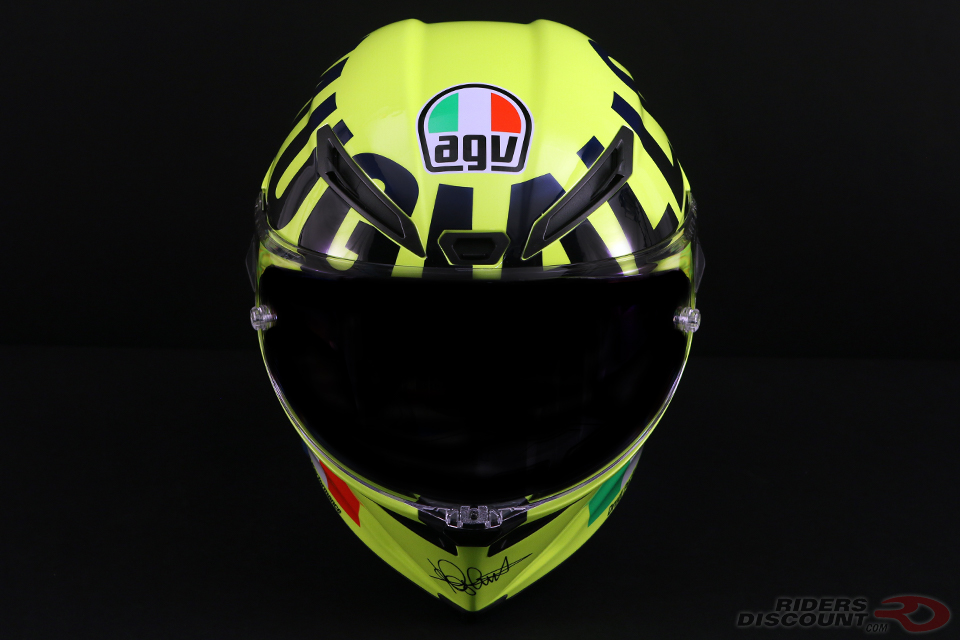 Visor
A dual-purpose shield locking system prevents the visor from accidentally opening in the case of a crash. The new visor is up to 5mm thick (most are 3mm), offers 85° vertical/190° horizontal view, and is class 1 optical standard.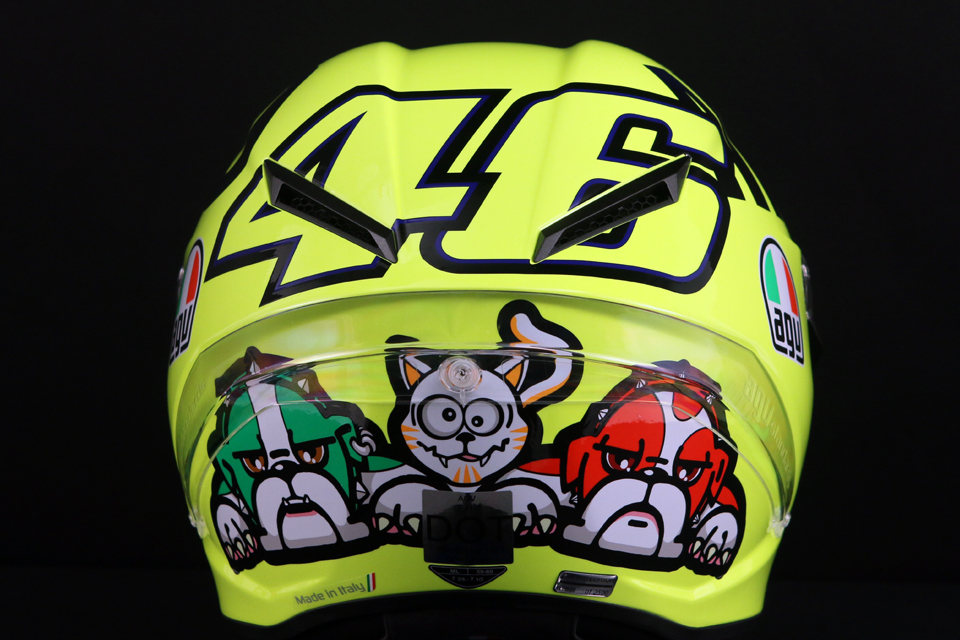 The Corsa R has a new reversible helmet liner that allows you to select either a warm or cool side.
A Max Vision Pinlock Insert Lens, removable nose guard, and wind deflector are included with the Corsa R.
Have a question? Ready to order?
Not yet listed on our website, you can order your AGV Limited Edition Corsa R Mugello 2016 Helmet by calling our expert sales team at 1-866-931-6644 between 10AM-6PM ET M-F. You can also email us at support@ridersdiscount.com.
Connect with us!
The following two tabs change content below.

We are people who live and breathe motorcycles. With licensed racers on staff, we know riding. That's how we bring you unparalleled service, knowledge & product variety. Call us or
order online
for guaranteed low prices on major brand gear, apparel & parts.
866-931-6644
Monday through Friday, 10AM to 6PM EST.

Latest posts by Riders Discount (see all)