Alpinestars has taken a solid classic and upgraded it for 2011 to improve comfort and safety, which has always been a hallmark of their suits. A 1.3mm premium cowhide chassis is sewn together using multiple-stitch seam technology to ensure the suit holds up well in a sliding type crash. Another aspect of safety which makes this superior to the older suit is the addition of external hard plastic sliders on the shoulders. Not only do these sliders help to disperse impact energy over a larger area, reducing the force a rider feels when he hits the ground, they also help prevent a suit-induced tumble which can lead to further injury. CE-certified armor is included as standard, covering the elbows, shoulders and knees/shins. Additional armor padding is sewn into the removable liner covering the hips and PE foam chest pads are also included, which we recommend be upgraded with Alpinestars' own Bio Armor or a suitable chest protector.
Comfort was another area that was well-addressed with this new suit. Accordion stretch panels on the shoulders have been redesigned to allow greater ease of movement and the mostly leather collar on the older SP-1 suit has now been replaced by a supremely comfortable suede surround. The collar was literally a sticking point for some users, but we're confident this has been addressed with the new 2011 Alpinestars SP-1 suit. Inside, the fully-removable mesh liner has stretch panels sewn into all the right locations, further providing for ease of movement while at the same time easing suit ingress and egress. Best of all, this suit is well-ventilated with perforations found from the neck down to the knees. This will not go unnoticed anytime you get on the bike. Even the aerodynamic hump is hollowed out and has channels to assist in delivering air to the upper back for supreme comfort.
If you're interested the SP-1, or any other Alpinestars product, feel free to give us a call a call at 866.931.6644. Is email more convenient? Feel free to send those to SUPPORT at RIDERSDISCOUNT dot COM and we'll get back to you right away!
For 2011, Alpinestars offers the SP-1 suit in either black or white only.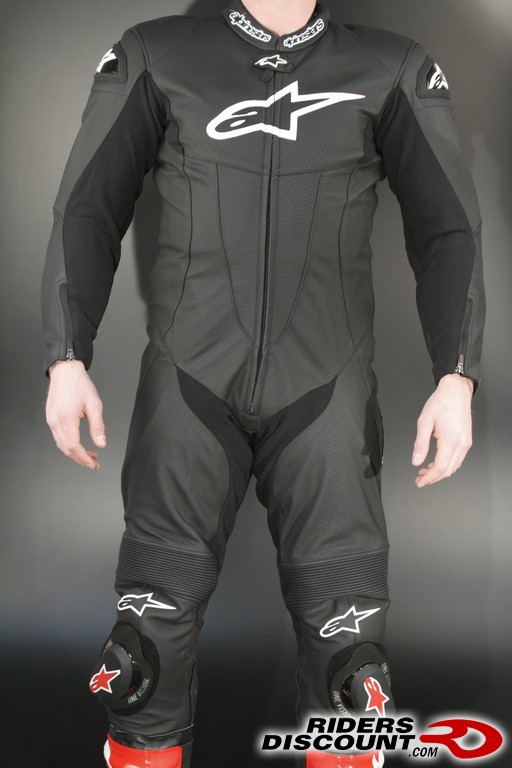 New SP-1 suit (white) versus old SP-1 suit (red). The single most noticeable change on the new SP-1 leather suits is the addition of external shoulder sliders. If you've ever looked at a leather suit post-crash, you'll notice that the shoulders are often scuffed up badly. And when compared to plastic, leather isn't exactly a low-friction material when it's rubbed against pavement at high speed, possibly leading to a tumble and further injury. These sliders are aimed precisely at reducing injury after you've come into contact with the pavement by preventing the shoulder from catching which in turn may lead to a painful tumble.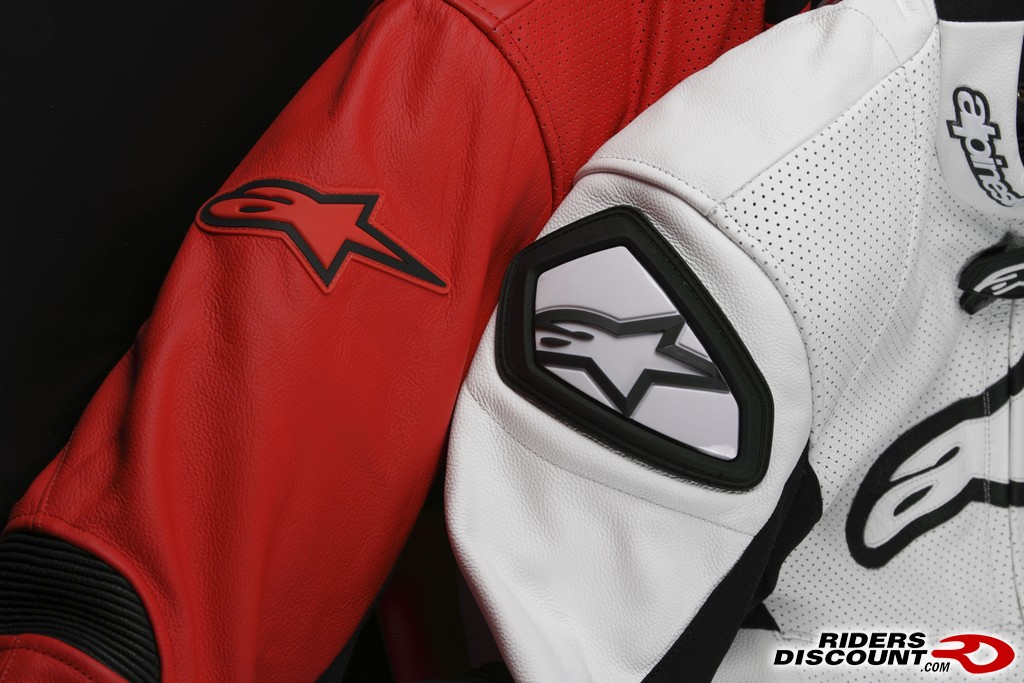 The 2011 Alpinestars SP-1 suit in white.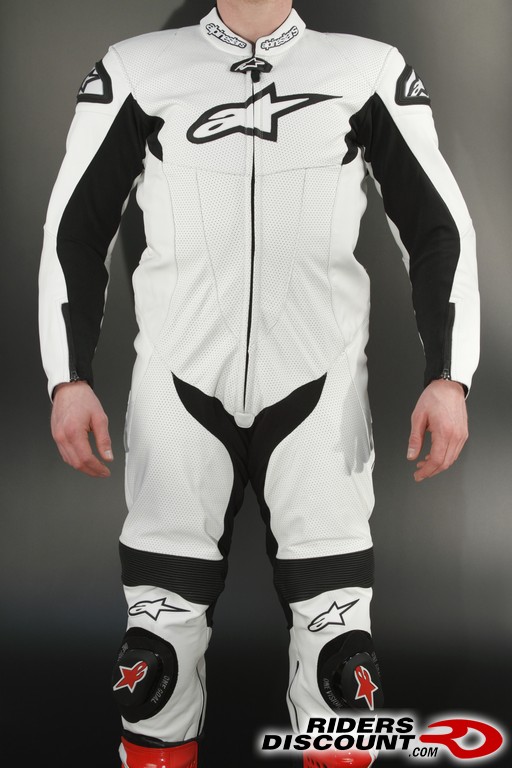 Inside the suit, six separate pieces of CE-certified armor are located in the shoulders, elbows and knees/shins.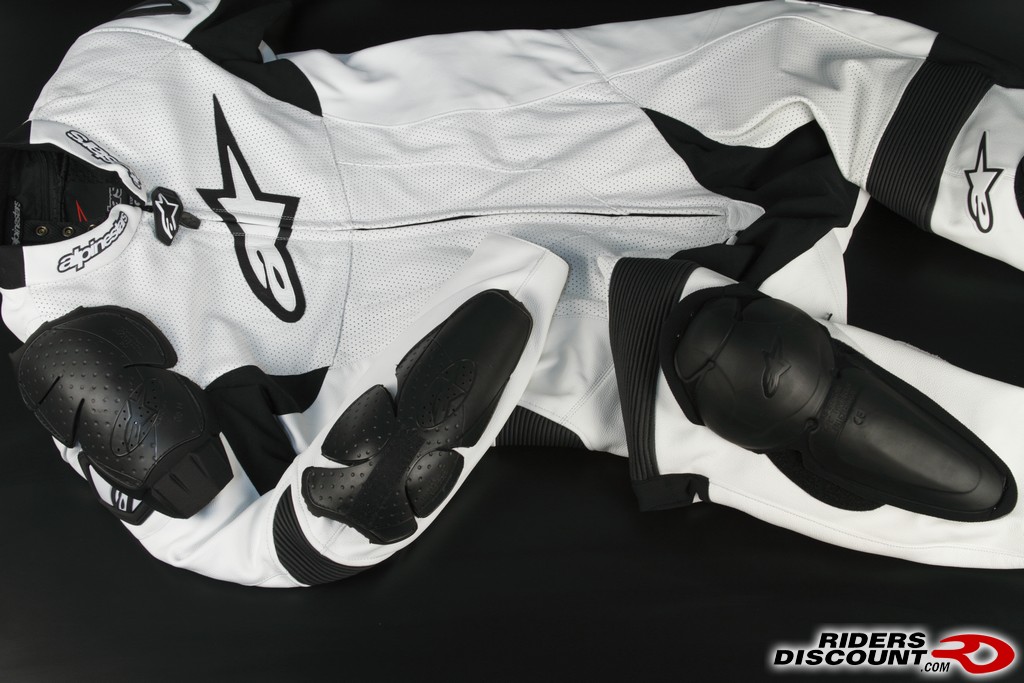 Alpinestars GP shoulder armor is positioned in a pocket that's sewn into the removable mesh liner. This arrangement allows it to keep its wide area of coverage perfectly over your shoulder no matter what position you're in. This armor is attached within the mesh liner instead of being sewn into the leather since the former method allows greater mobility, increased comfort and the best possible protection.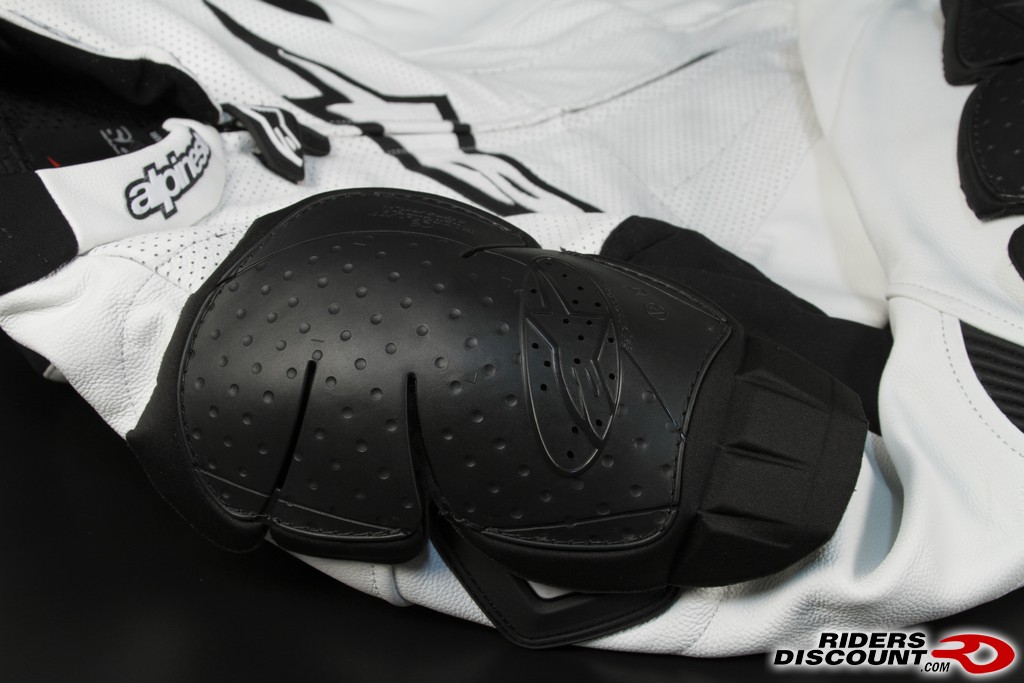 GP-R knee/shin armor is also situated within the mesh liner to allow for increased comfort over the full range of movement. And, unlike the older SP-1 suit which makes getting at the armor difficult, the new suit's knee/shin armor is easily removed from the leg openings.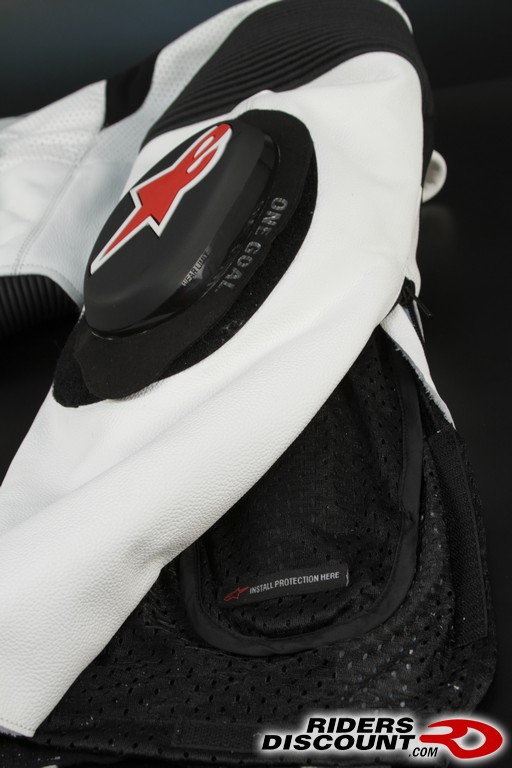 Notice the large swatch of Velcro on this piece of elbow armor. This allows you to easily position the armor within the suit for a near custom fit. For comfort and ease of movement, reliefs have been molded within the unit as well.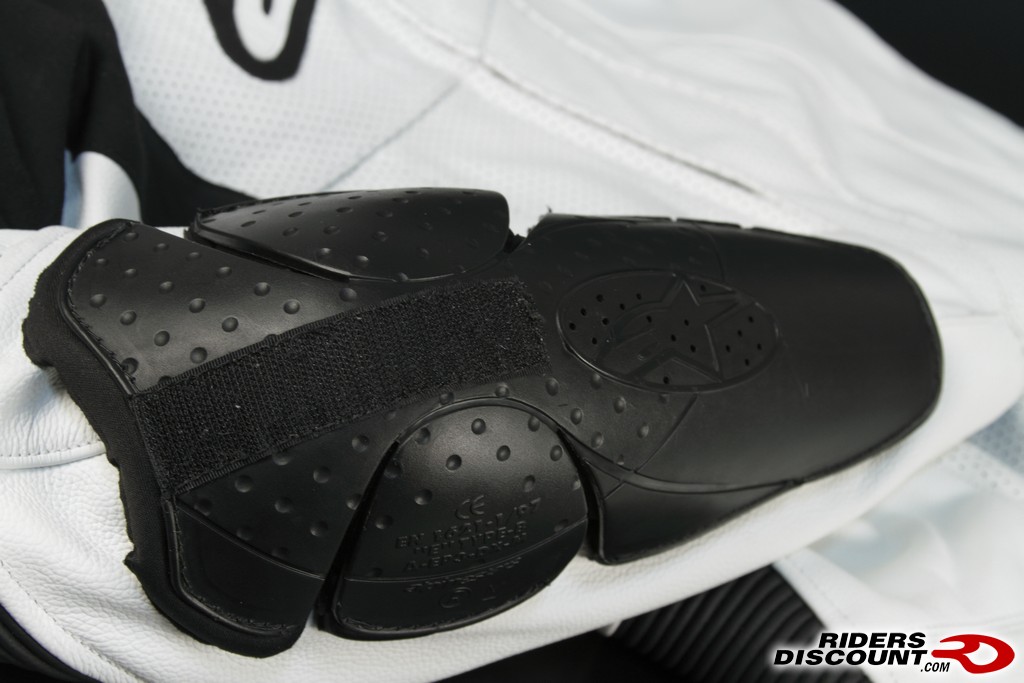 Perforations, the 2011 SP-1 suit has these in abundance all along the front of the suit and down.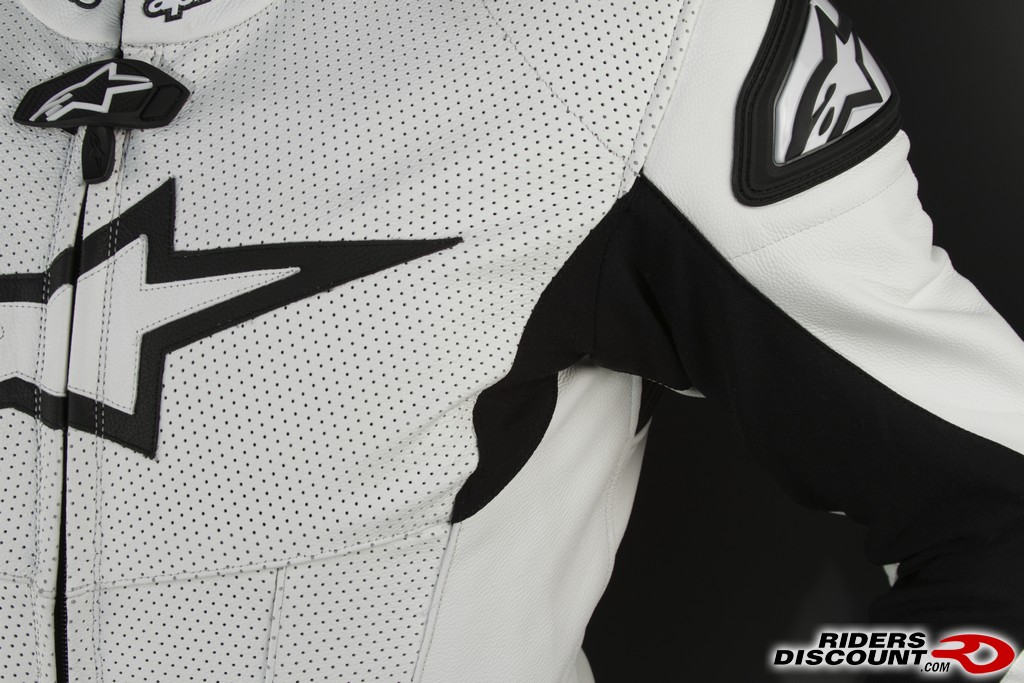 Ventilation with die-cut perforations only stops just above the knees.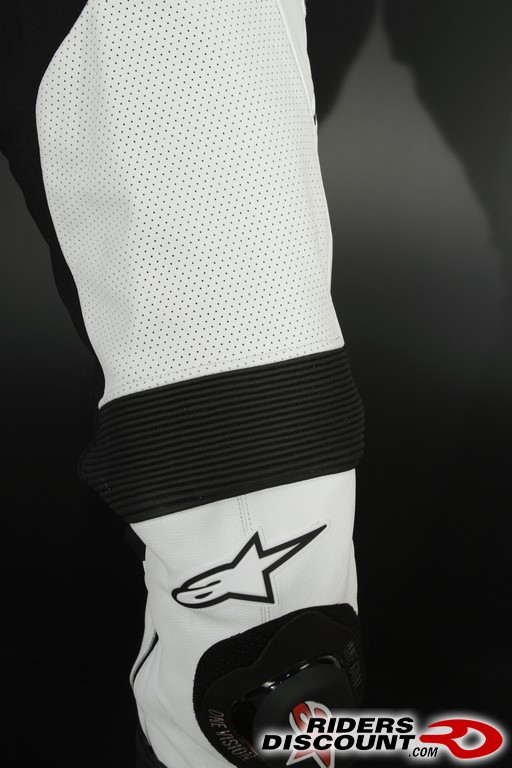 The new SP-1 suit uses vertically-oriented leather accordion stretch panels instead of the previous model's horizontal layout. This not only improves range of motion but it also reduces the tugging feeling that a suit can sometimes have on the user when reaching up or forward.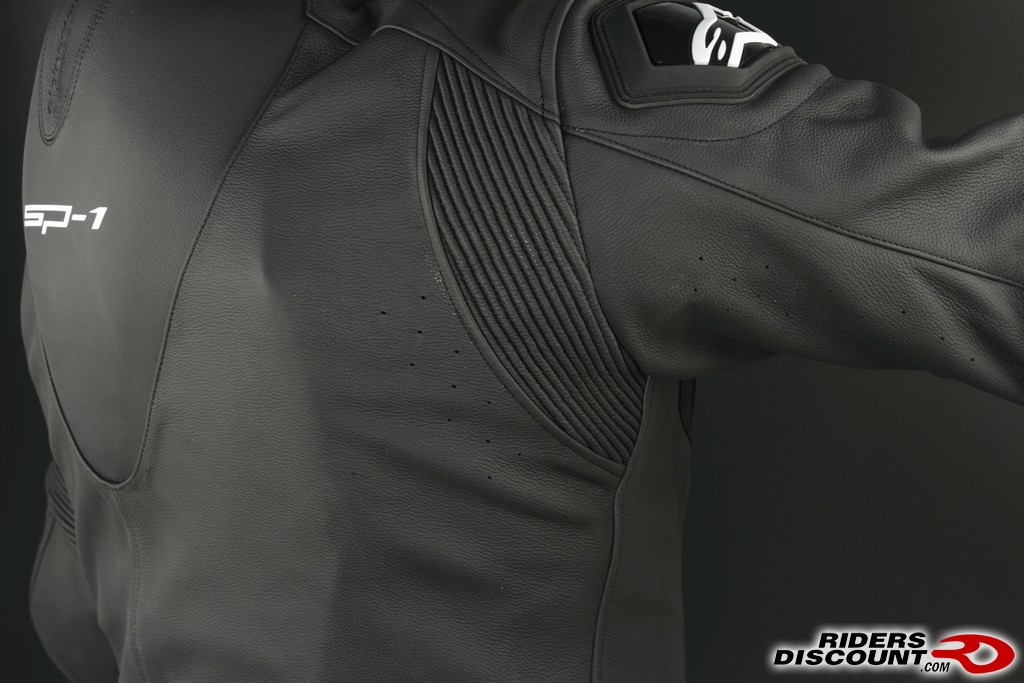 Getting into a race tuck will not be an issue with the large accordion panel at the base of the back on the 2011 SP-1 suit.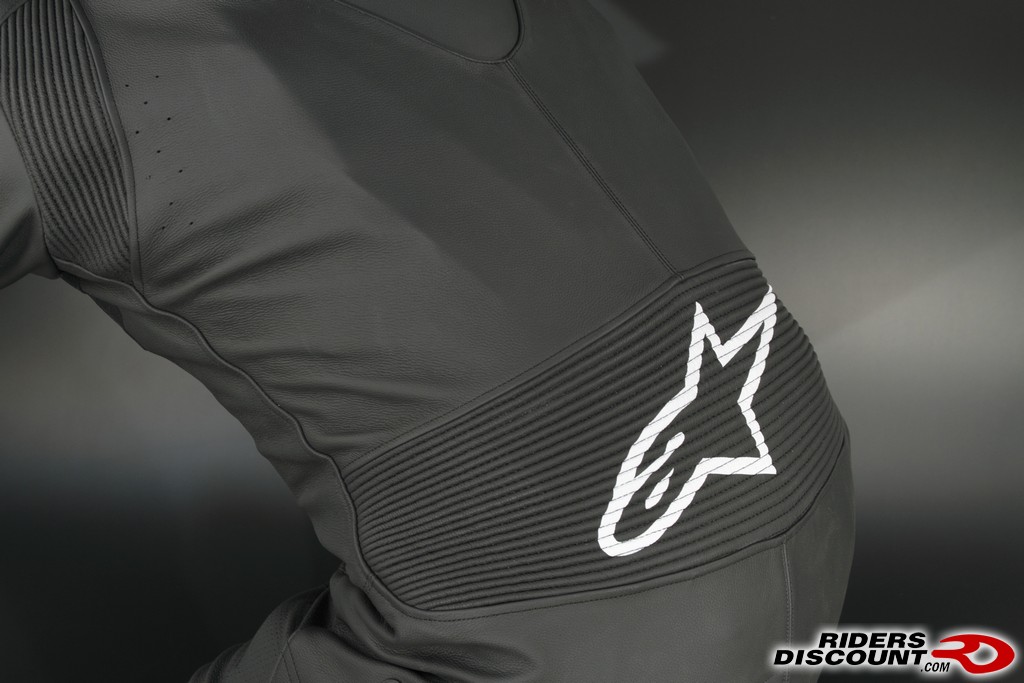 Here's another instance of improvement from a comfort standpoint. The new SP-1 suit (white) has an all-suede neck collar whereas the older version (red) uses a lot of leather which can start to chafe after a short while. The three buttons allow you to easily attach a compatible Alpinestars back protector.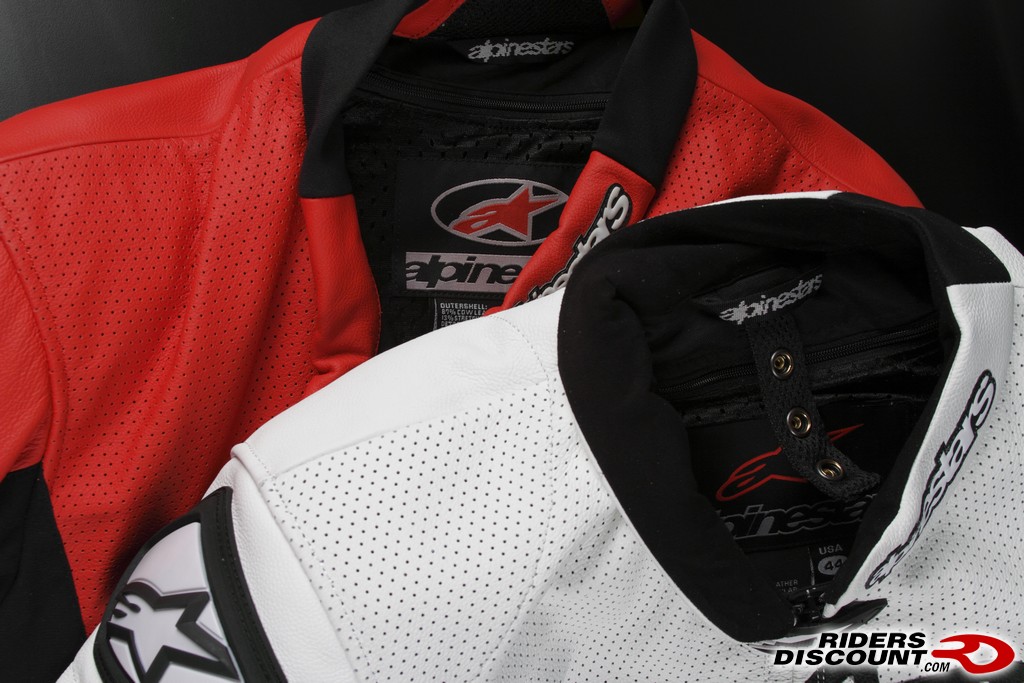 A large aerodynamic hump is fitted as standard. The dual-density foam that gives the hump its shape also works with holes in the top of the hump to improve cooling performance for your backside.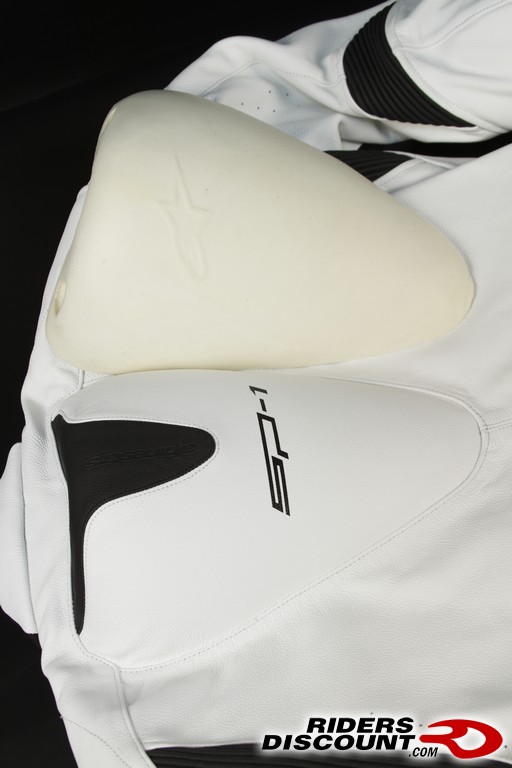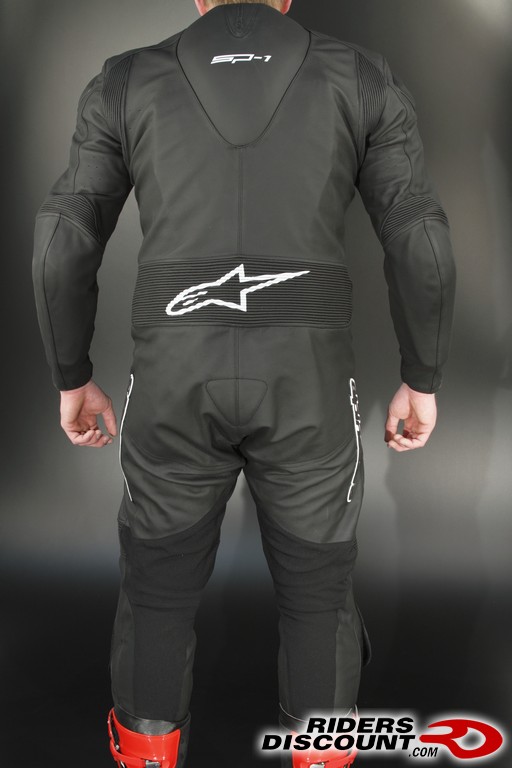 Our staff has years of experience fitting Alpinestars suit. If you have any questions regarding fitment of a particular set of leathers, give us a call and we'll make sure you get the right suit fast!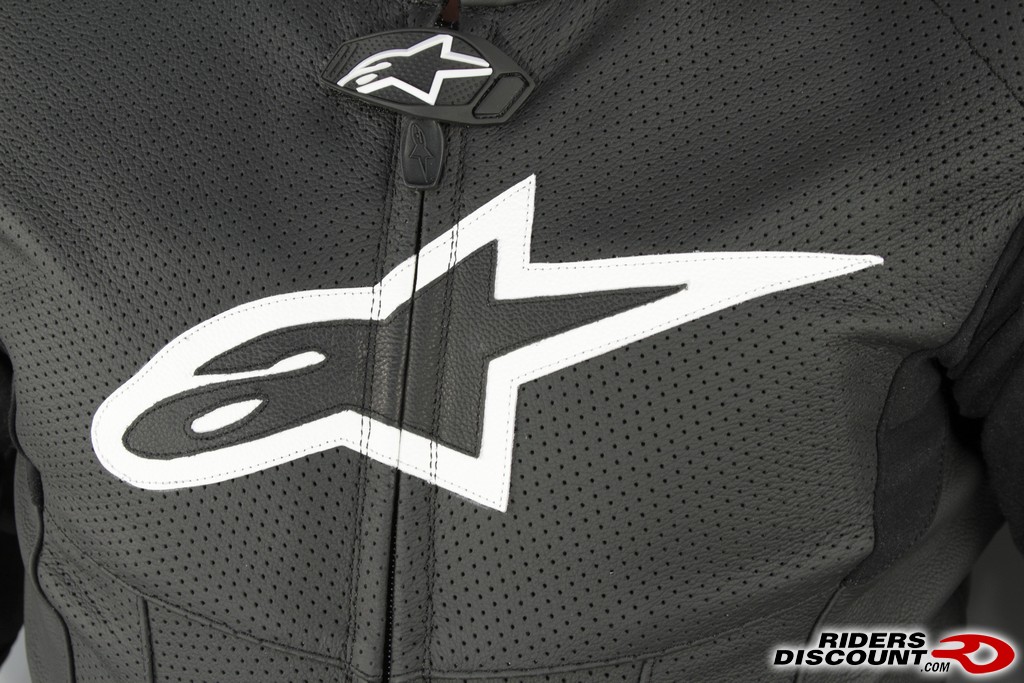 The following two tabs change content below.

We are people who live and breathe motorcycles. With licensed racers on staff, we know riding. That's how we bring you unparalleled service, knowledge & product variety. Call us or
order online
for guaranteed low prices on major brand gear, apparel & parts.
866-931-6644
Monday through Friday, 10AM to 6PM EST.

Latest posts by Riders Discount (see all)