Welcome to Part 2 of the Riders Discount Beginner's Guide to Ride! We hope you enjoyed Part 1 of our guide and that it's helped you become more comfortable as a beginner rider, inspired you to ride, or even brushed up you veteran riders with some helpful and maybe forgotten advice. We left off last time with telling you that as a motorcyclist, the learning never ends, and following that notion, we have five additional tips to keep you safe and inspire you to be a rider for life. Follow our last 5 tips that every rider should know to help bring you from a beginner's level to veteran rider.
Choose your companions carefully.

You don't have to ride alone, in fact riding is often a social activity. Just remember to pick your riding pack carefully.

You should be riding with someone who takes the fact that you are at a beginner's level seriously and isn't daring you to ride beyond your limits.

Riding with others can help to improve your skills, if they are responsible and experienced.

Your friends should be able to understand that you are still learning and may be a little more hesitant when it comes to

corners

and overall speed.

If your

companions

are pushing

you to go out of your comfort zone, you'd be better off riding alone.

Also, we know you may

want to show off your skills, but

avoid riding

with a passenger until you have ample experience under your belt. The added weight distribution can be difficult to maneuver, and trust us, you won't look cool if you crash.

Conduct a pre-ride inspection. Your bike should be completely ready to go before you hop on. In a car you can adjust certain things while driving like your mirrors, but on a motorcycle that's all a part of the pre-ride inspection. Remember to check your chain, belt, or drive shaft before your ride depending on the type of bike you have. You should also make sure your oil, coolant, and any other fluids are not leaking. Be sure to inspect your front forks for fluid leakage as well. If anything is leaking you should bring your bike to a trusted mechanic. Make sure that all of your lights, horn, and brakes are working properly before you ride. Remember to check your tire pressures as well. Things like dimmed lights, improper brakes, and under or over inflated tires can directly effect your safety on the road. Proper and routine motorcycle maintenance can reduce your risk of an accident.
Consider yourself invisible. This is probably one of the best mindsets a rider can have in order to avoid an accident. Even if you make direct eye contact with another driver never assume they actually saw you or will continue to look out for you after that split second. Help other drivers to see you by avoiding all black bikes and black gear. Wear high visibility colors that will reflect off headlights, making you noticeable to other motorists night and day. Even when you have the right of way, don't assume other vehicles have seen you, watch your surroundings with every move. One of the best things you can learn as a rider is to depend on yourself. Always keep an extra eye out for other drivers and use the advantages of your bike to maneuver yourself out of their way and into a safe zone.
Be a defensive rider. If you depend on other drivers to ensure your safety, you're just an accident waiting to happen. You already know you're mostly invisible to other motorists, so that means your safety is in your own hands. Motorcyclists know that every distraction could easily result in an accident, and in the age of cell phones and texting, drivers are more distracted than ever. Look out for cars quickly changing lanes and pulling onto streets where it is more likely they might not see you. Remember to keep a safe distance, never tailgate, and always have an exit strategy. You need proper room to react to the car and the road. Don't forget that things like pot holes and sewer drains may be fine in a car but can easily crash your bike. On a bike you need to be aware of your surroundings at all times. Be attentive, because any sort of distraction can result in a collision. Remember on a motorcycle the only thing you can truly control is how you ride.
Watch for the weather. Once you start getting the hang of basic riding, remember that hazards increase with the weather. You will inevitably get caught in the rain at some point, and when you do you need to be prepared. Just follow our helpful guide to finding the perfect motorcycle rain jacket in order to keep you safe and dry no matter what weather comes your way. Rain will make the roads slippery which effects the grip of your tires, and don't forget how hard it can be to see. You should ride slower and be more gentle on your brakes to reduce sliding on wet pavement. High winds can push you from side to side so be aware of your weight distribution and carry a windbreaker. All weather patterns come with added concerns on the road. When you are on a bike you are directly exposed, so wear proper protective gear, slow down, and ride safe. When in doubt pull off and wait for the storm to pass.
We hope our guide has inspired you to ride safely and responsibly so that you become a rider for life. Don't forget to check out Part 1 of Beginner's Guide to Ride for more tips on starting a life on two wheels.
If you require additional help finding proper protective gear for night, day, or any risky weather patterns, just give us a call! Our expert sales team is here for you by phone 10AM-6PM ET M-F 1-866-931-6644 or email at support@ridersdiscount.com.
May brings us flowers, new riders, and hopefully a new dedication to safety for every motorcyclist. May has been designated Motorcycle Safety Awareness month, so we want to remind you to ride responsibly on every ride. Be a rider for life by riding defensively. Every step you take for a safe ride will keep you on the road and out of harms way.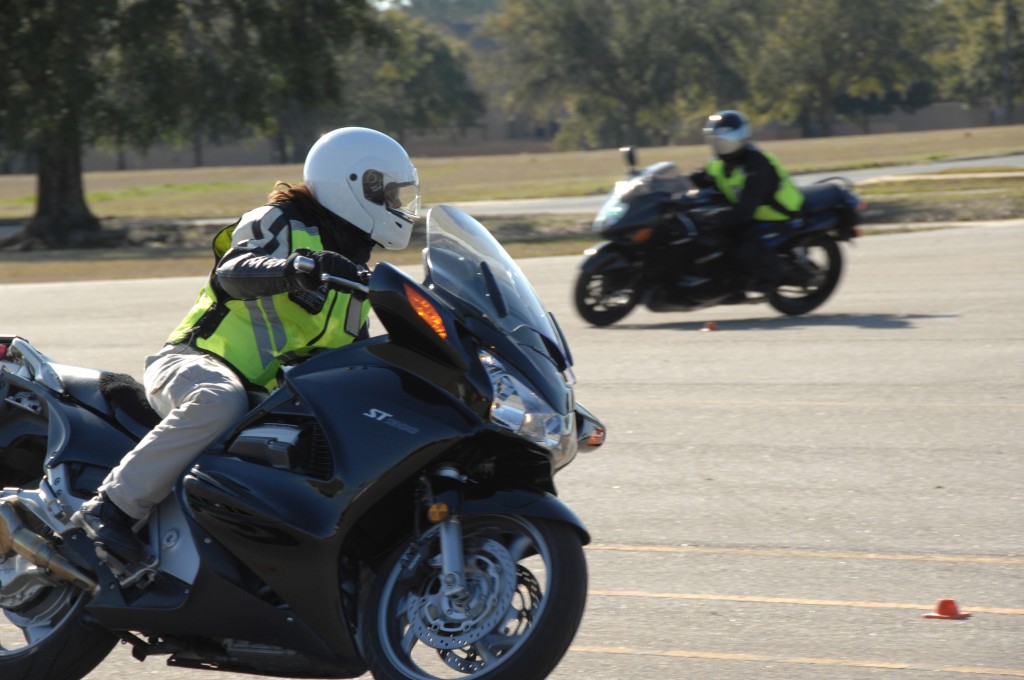 The following two tabs change content below.

We are people who live and breathe motorcycles. With licensed racers on staff, we know riding. That's how we bring you unparalleled service, knowledge & product variety. Call us or
order online
for guaranteed low prices on major brand gear, apparel & parts.
866-931-6644
Monday through Friday, 10AM to 6PM EST.

Latest posts by Riders Discount (see all)