The Dainese D-Air Racing Mugello Suit is Dainese's top-of-the-line suit equipped with the D-Air airbag system. D-Air utilizes Dainese's intelligent protection system to determine when to inflate the airbag (high side or low side).
The Dainese D-Air system consists of the following:
Electronic System – triggering algorithm and diagnostics managed by dedicated firmware; three accelerometers; three gyroscopes; a GPS; 2 GB internal memory; user interface (LED); lithium polymer battery.
Pneumatic System – Dainese-patented 3D structure airbag; high-pressure airbag with a volume of 4 liters; "cold" technology gas generator.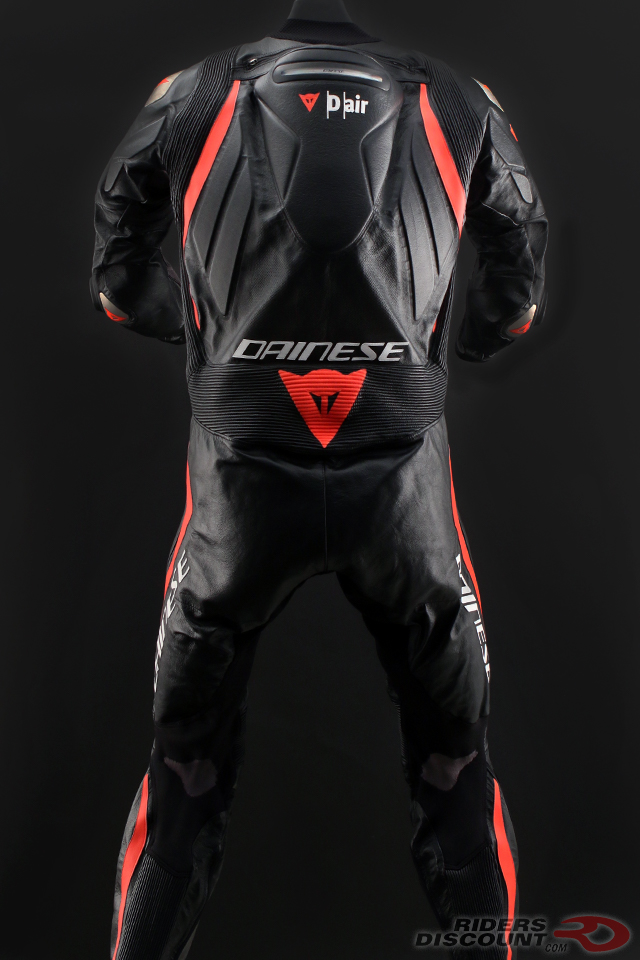 When activated, the airbag provides extra protection to the collarbones, shoulders, and neck.
In addition to providing protection, the D-Air system built into this suit also collects data (lap times, max speed, etc.) allowing you to evaluate your performance on the track.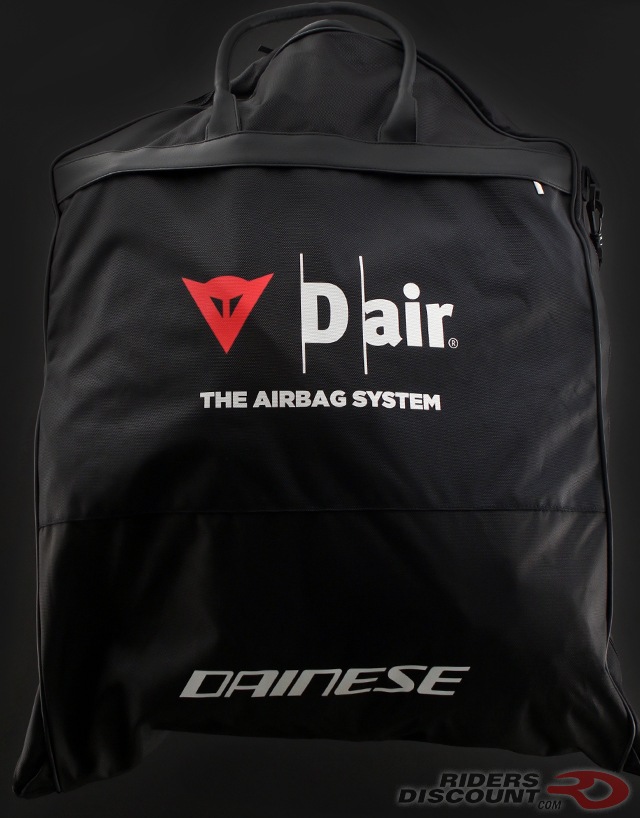 The Mugello suit is constructed from 100% kangaroo leather, making it lightweight yet extremely abrasion resistant. Localized perforation throughout the suit allows for excellent ventilation.
The Mugello incorporates a tri-axial elasticated insert on the back and breathable elasticated inserts on the sleeves, legs, and neck for comfort and performance. Engineered elasticated textile on the sleeves and legs allow for better mobility.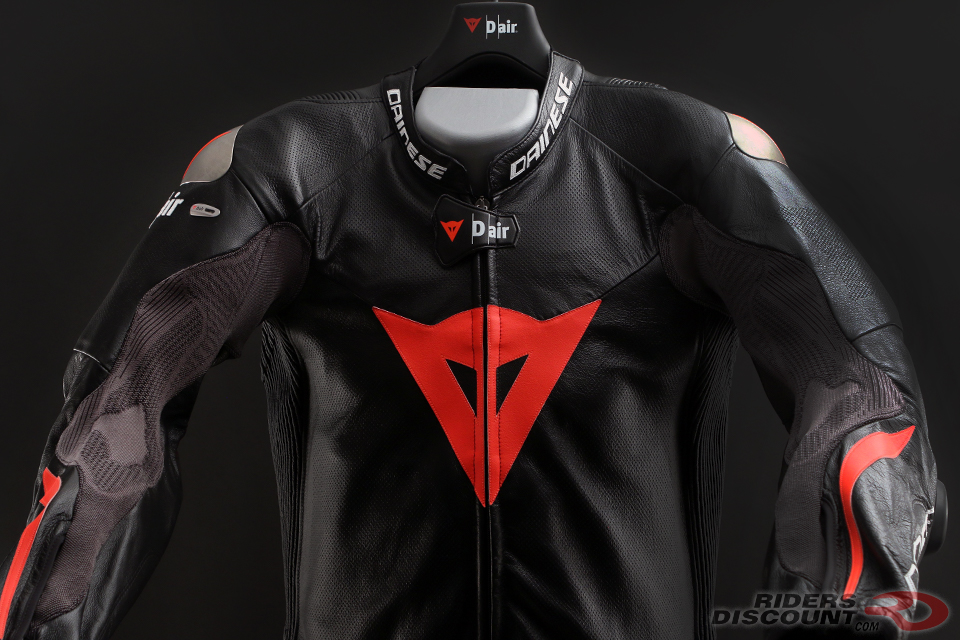 This suit features seamless titanium plates on the elbows, shoulders, and knees. The elbows and knees have composite protectors and 2.0 sliders as well.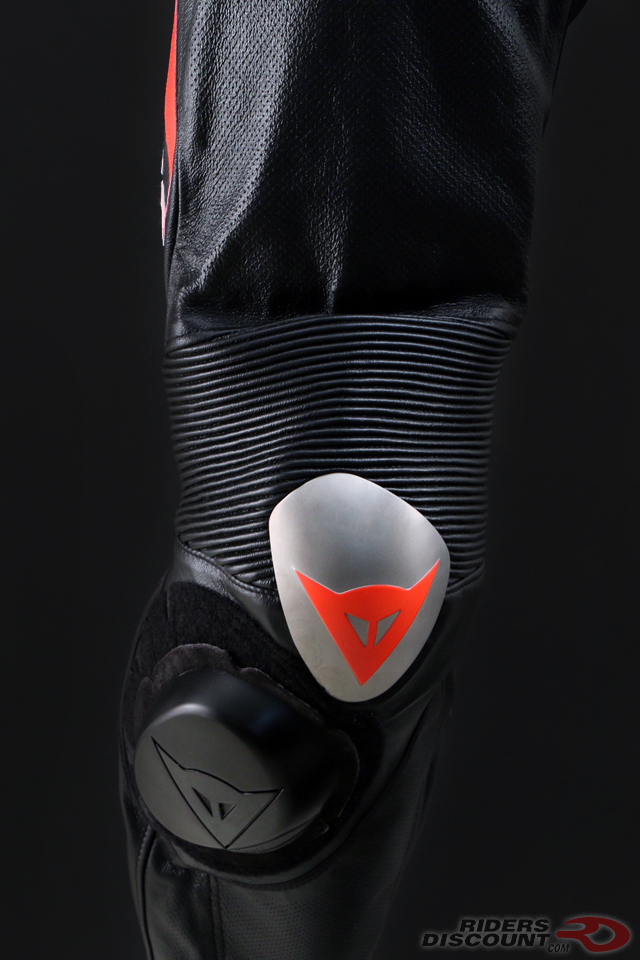 The Mugello suit includes a back protector and hydration kit.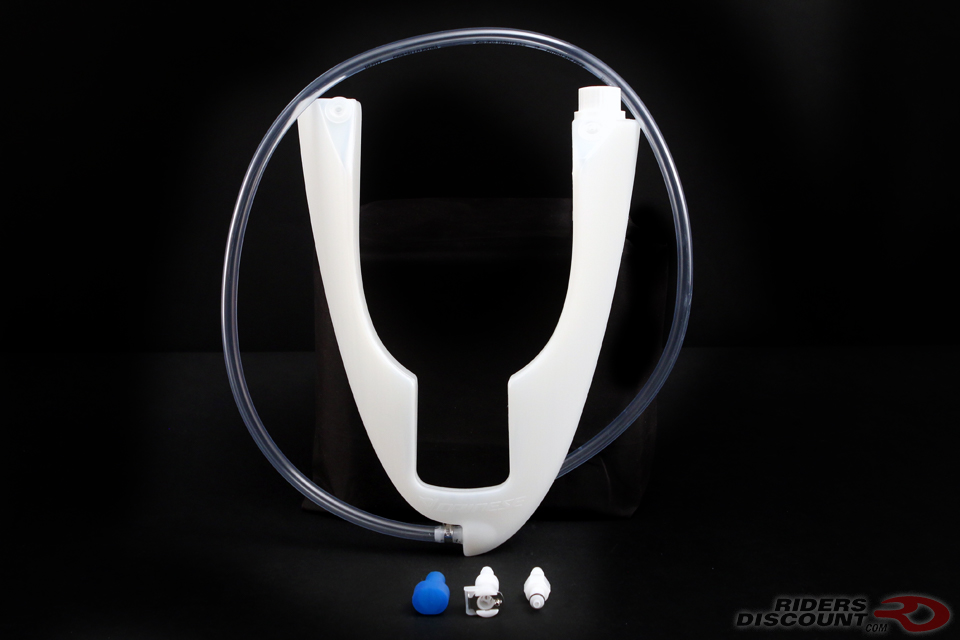 Inside of this suit is a Nanofeel liner that's completely removable.
Please note: You must register the Dainese D-Air Racing Mugello Suit with Dainese. If the airbag is deployed, the suit must be sent to Dainese for inspection and to reset the airbag. Owners of the suit are responsible for any costs associated. Even if not deployed, the system will still have to be serviced by Dainese after a period of five years from the date of manufacturing shown on your D-Air product. Dainese recommends charging the battery every two months, even when not being used on the track.
Have a question? Ready to order?
Riders Discount provides a vast variety of gear and parts to suit your riding needs. As always, we are here to help you make every ride the perfect ride. Visit our website to find the right gear for you. Our expert sales team is here for you by phone 10AM-6PM ET M-F 1-866-931-6644 or email at support@ridersdiscount.com.
Connect with us!
The following two tabs change content below.

We are people who live and breathe motorcycles. With licensed racers on staff, we know riding. That's how we bring you unparalleled service, knowledge & product variety. Call us or
order online
for guaranteed low prices on major brand gear, apparel & parts.
866-931-6644
Monday through Friday, 10AM to 6PM EST.

Latest posts by Riders Discount (see all)