Daytona Beach, Florida – Danny Eslick won the 73rd Daytona 200 in dominating fashion aboard the #69 Riders Discount Triumph 675R. This is the first time Triumph has won the prestigious event since Gary Nixon in 1967. This year is the last year the middleweight class will be competing in the long race before returning to the sprint format next year, and "Danny Eslick" will be the last name on the list of winners for the foreseeable future.
Danny's race could not have started in a better position after winning pole, earning himself a second Rolex Daytona Cosmograph watch. Danny led 44 of 57 laps with two flawless pit stops performed by the Riders Discount Triumph crew allowing Danny to maintain his lead.
The last stint started with a margin of 2 seconds over second place rider Jake Gagne, increasing to over 10 seconds by the finish all the while waving to the fans, spurring the bike like a horse, and riding wheelies in classic Danny form. The victory lap saw a stop at a Danny Eslick fan club bus where he briefly celebrated before returning to the bike and proceeded to do rolling burnouts and ride wheelies along the banks of Daytona.
Danny Eslick:

"Hats off to the crew. (Crew chief) Richard Stanboli is the guy I worked with like ten years ago in my first year in the AMA Pro Road Racing. So in a big, roundabout way, this is payback for that first year," said Eslick. "It's awesome. I've gotten the pole before and, my very first 200, I got fourth. So there's been a lot of hard work and a lot of years passed by to get this victory. It really means a lot. There's been a lot going on at home, losing people close to me. This one is for Tommy Aquino and some good friends from home. So it means a lot."
Brian Gibson, Team Owner:

"To win the Daytona 200 at the start of only our 2nd AMA Pro Road Racing season is just incredible. I can't thank Danny and the entire crew enough. These guys have been burning the midnight oil for 6 weeks getting everything prepared and Danny capped off the effort by performing flawlessly. A huge shout out to all of our sponsors for believing in our program and also I want to thank all the fans of Danny and Riders Discount that cheered us to victory!"
Riders Discount would like to thank all of our sponsors: Triumph Motorcycles, Speed and Strength, Akrapovic, Attack Performance, Renthal, Andrew Swenson Design, Zero Gravity, GB Racing, Motion Pro, DynoJet, DrippinWet.com, Fast Frank Racing, Spiegler, Castrol, and Sharkskinz Racing Bodies. 
About RidersDiscount.com:
Riders Discount (www.ridersdiscount.com) is an online retailer of quality powersports gear, apparel, and accessories. A company founded by racers, RidersDiscount.com ships equipment for every riding style to customers worldwide, backed by knowledgeable sales team and excellent customer service.
Triumph Motorcycles (www.TriumphMotorcycles.com) is the British motorcycle marque that produces a wide range of sport, cruiser, adventure and touring motorcycles. From the storied Bonneville to the class-leading Speed Triple and Daytona 675R, Triumph offers a blend of design, character and performance that result in truly distinctive motorcycles. First established in 1902 and now located in Hinckley, Leicestershire, England, Triumph has always set the pace for category-winning machines. The company is solely owned by Bloor Holdings Ltd. and its North American operations are based in Atlanta.
Danny Eslick (http://www.eslick69.com) The Ultimate experience for all fans of Danny Eslick Racing. Check back often for all the latest news, photos, videos, and rider profiles.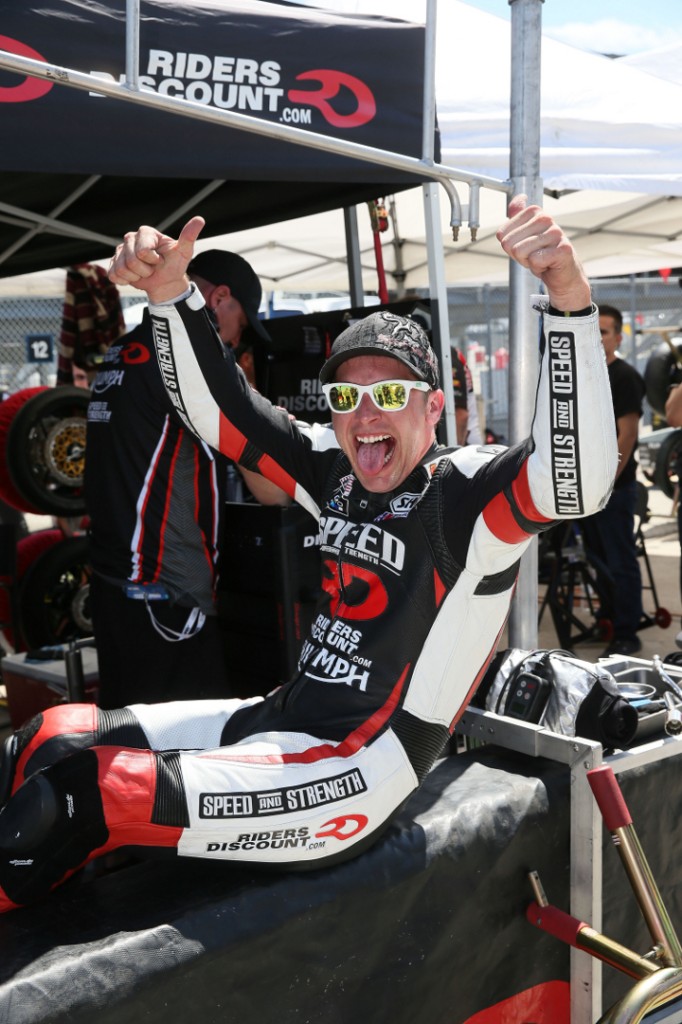 The following two tabs change content below.

We are people who live and breathe motorcycles. With licensed racers on staff, we know riding. That's how we bring you unparalleled service, knowledge & product variety. Call us or
order online
for guaranteed low prices on major brand gear, apparel & parts.
866-931-6644
Monday through Friday, 10AM to 6PM EST.

Latest posts by Riders Discount (see all)