October 27, 2014 – Maumee, OH – Honda East Yoshimura Suzuki rider Eddie Kraft finished with two second place finishes during the Pirelli/WERA Sportsman Series National Championships, in both the 750 Superstock and 750 Superbike winner-take-all races, during the 42nd WERA Grand National Finals held at Barber Motorsports Park.
Kraft led three of four races entered at one point, including the 1000 Superstock race; ultimately finishing 6th, aboard his Pirelli-shod, MCJ-Motorsports sponsored Suzuki GSX-R750?s. Prior to the weekend, the Michigan-based rider won the WERA North Central 750 Superstock and 1000 Superstock class championships.
"I'm not sure second place is much to brag about", joked Eddie. "We love coming to this event though, as it brings the best competition from all over the country to race head to head at the end of the season. We kept plugging away all week and went faster while running up front – something everyone on the team was proud of."
Kraft further states, "After running similar times as the leaders in the 1000 Superstock race, we were losing ground over the course of the race to the bigger bikes, so we made a gamble heading into the Formula 1 race, but it didn't work out as well as we'd hoped. Overall though, we had a solid event and great season – and I'm looking forward to coming back next year to have a shot at further improvement. Thank you to my dad and Dave Moss for their help all weekend long – both Honda East Yoshimura Suzuki's were on rails. Joe has sacrificed his own riding much of this year, which made this all possible and is something I sincerely appreciate."
About Honda East: As a family owned and operated Ohio motorcycle dealer, Honda East's philosophy is to treat each customer like a family member, every visit. Our award-winning sales staff will strive to meet and exceed your expectations, whether you are purchasing a new vehicle, calling with a question, picking up a part, or just looking in our shop. Located in Northwest Ohio, Honda East is the #1 ranked dealership in both Ohio and Michigan; offering a full line of sport bikes, cruisers, dirt bikes, ATVs, scooters, watercraft and snowmobiles not only by Honda, but Suzuki, Yamaha, Kawasaki, Aprilia, Indian, Sea-Doo, Ski-Doo, Can-Am, Kymco, Bombardier, Polaris and Artic Cat. Honda East prides themselves on the best out the door deal, period. No games, no hassles.
About Yoshimura R&D of America: Yoshimura is "The Leader in Performance" and has been for more than 55 years. With unmatched skills, knowledge, and passion for racing, Yoshimura is on the forefront of the aftermarket exhaust industry. Yoshimura pipes are race bred and feature the same legendary performance, fit and quality that has been their trademark for more than five decades. To learn more about Yoshimura and view their wide variety of performance products, visit www.yoshimura-rd.com.
Witchkraft Racing would like to thank their 2014 sponsors: Pirelli Tires, MCJ Motorsports, GoPro, Riders Discount, Dynojet, Motul, Millennium Technologies, NGK, Chicken Hawk, Moto Liberty, RS Taichi, Shoei Helmets, Samco, WWB, Ballistic Performance and Motion Pro. Also Ohlins USA, Pit Bull, Sharkskinz, PopShadow Decals, MC Designs, Spider Grips, Hammer Nutrition, Performance Cycleworx, Andrew Swenson Designs and Dave Moss. For more information on Honda East, visit hondaeast.com. For information on Yoshimura, visit yoshimura-rd.com. And for news on the race team, please visit witchkraftracing.com.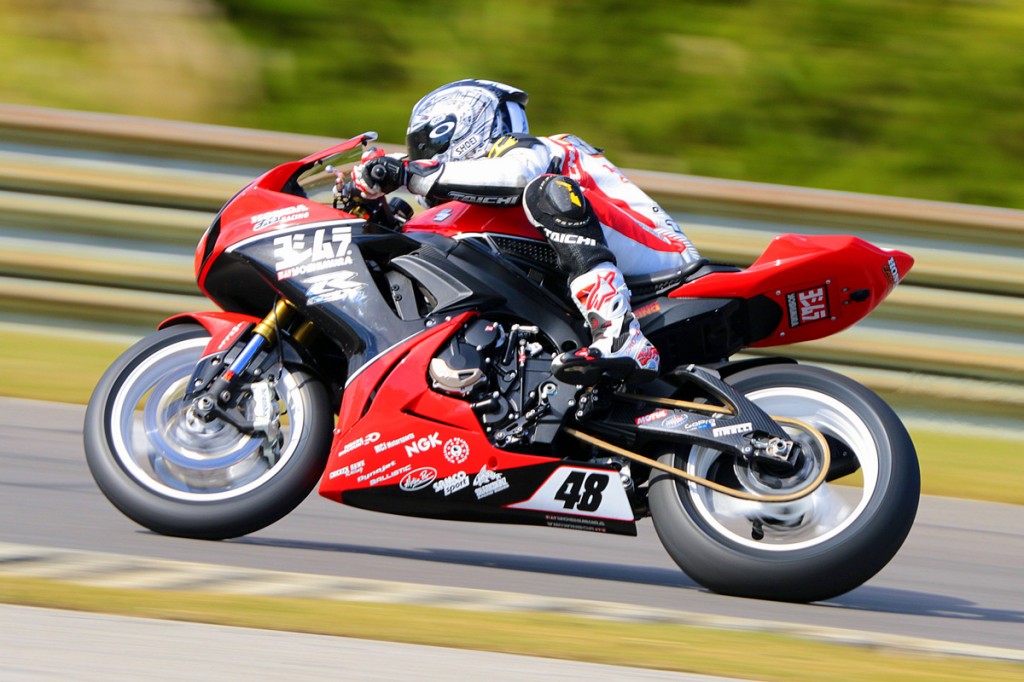 The following two tabs change content below.

We are people who live and breathe motorcycles. With licensed racers on staff, we know riding. That's how we bring you unparalleled service, knowledge & product variety. Call us or
order online
for guaranteed low prices on major brand gear, apparel & parts.
866-931-6644
Monday through Friday, 10AM to 6PM EST.

Latest posts by Riders Discount (see all)