ELKHART LAKE, Wis. (June 2, 2014) – Riders Discount Triumph's Danny Eslick secured a fourth place finish on Sunday after crashing out of Saturday's race.
Saturday did not go quite as planned for the Riders Discount Triumph crew.  Electronic issues disrupted second qualifying, and a high side in turn 13 on lap two of race one left the crew rebuilding the second bike under AMA Pro Racing's new one bike rule.  Asked about his 103 mph crash Danny said, "I'm a little bit beat up, banged up, bruised, but my pride's probably hurt more than any of it.  I think it was 2008 since I've last crashed out of a race.  It's a bit of a disappointment for me, that was a pretty good run I had going there."
Sunday was the dawn of a new day.  A new engine, and a new chassis meant Danny would be riding a completely different motorcycle.  Danny started in fifth position until fourth place Triumph's Jason Disalvo suffered mechanical issues allowing Danny to slot into fourth for the remainder of the race, finishing as the top Triumph rider.  "Today's race was pretty uneventful for me," Danny said Sunday.  "I was just trying to salvage the best finish I could and stay in line for the championship."
"After a rough weekend like ours it definitely let's you know what your team and rider are made of," said Riders Discount Triumph team owner, Brian Gibson.  "After a 103 mph high side crash for Danny and the team having to completely build a new bike, it showed we have one tough rider and a great crew.  Not only did we make the race Sunday we were able to battle and finish with a very solid fourth place position.  With that being said, I can only thank the whole Riders Discount Triumph team for salvaging a very difficult weekend and keeping us in a strong second position in the championship."
Danny and the Riders Discount Triumph team hold second place in the AMA Pro GoPro Daytona SportBike Championship and are looking forward to the Triumph SuperBike Classic at Barber Motorsports Park in a little under three weeks. 
Riders Discount would like to thank all of our sponsors: Triumph Motorcycles, Speed and Strength, Akrapovic, Attack Performance, Renthal, Andrew Swenson Design, Zero Gravity, GB Racing, Capit Performance, Motion Pro, DynoJet, DrippinWet.com, Fast Frank Racing, Spiegler, Castrol, and Sharkskinz Racing Bodies. 
About RidersDiscount.com:
Riders Discount (www.ridersdiscount.com) is an online retailer of quality powersports gear, apparel, and accessories. A company founded by racers, RidersDiscount.com ships equipment for every riding style to customers worldwide, backed by knowledgeable sales team and excellent customer service.
Triumph Motorcycles (www.TriumphMotorcycles.com) is the British motorcycle marque that produces a wide range of sport, cruiser, adventure and touring motorcycles. From the storied Bonneville to the class-leading Speed Triple and Daytona 675R, Triumph offers a blend of design, character and performance that result in truly distinctive motorcycles. First established in 1902 and now located in Hinckley, Leicestershire, England, Triumph has always set the pace for category-winning machines. The company is solely owned by Bloor Holdings Ltd. and its North American operations are based in Atlanta.
Danny Eslick (http://www.eslick69.com) The Ultimate experience for all fans of Danny Eslick Racing. Check back often for all the latest news, photos, videos, and rider profiles.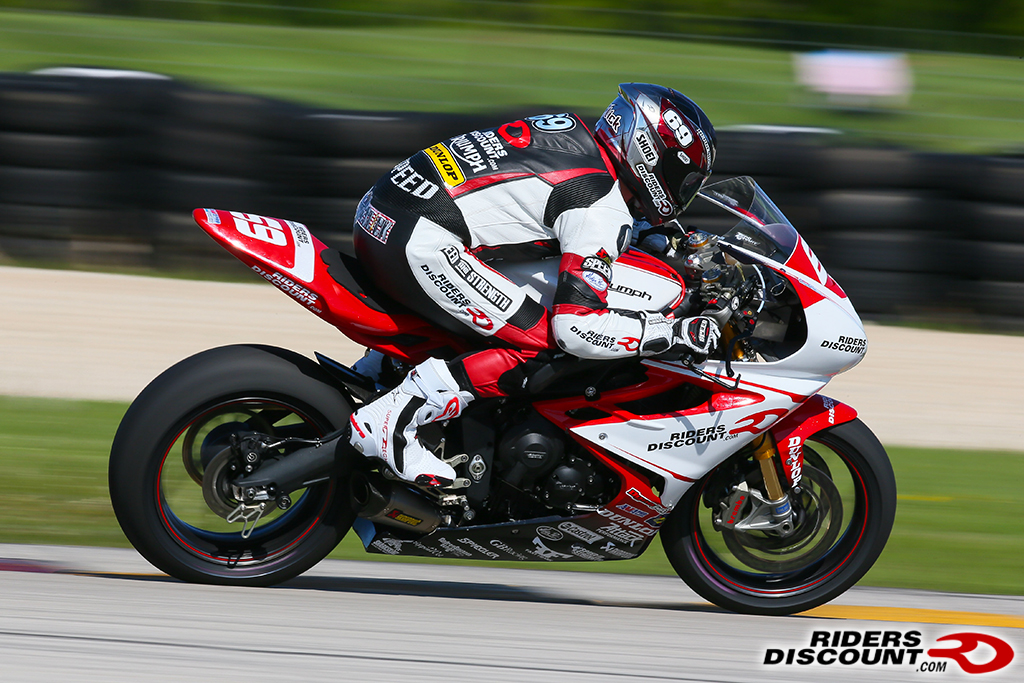 The following two tabs change content below.

We are people who live and breathe motorcycles. With licensed racers on staff, we know riding. That's how we bring you unparalleled service, knowledge & product variety. Call us or
order online
for guaranteed low prices on major brand gear, apparel & parts.
866-931-6644
Monday through Friday, 10AM to 6PM EST.

Latest posts by Riders Discount (see all)