Holland, Michigan — Riders Discount Triumph is very excited to announce that Danny Eslick "the wild one" will be contesting the 2014 AMA Daytona Sportbike Championship aboard a Triumph 675R.  Danny's proven ability to win championships with different manufacturers should make for an exciting season.
The continuation of the relationship between Triumph and Riders Discount into 2014 shows the mutual trust and respect the manufacturer and team have built.  The pairing of the two with Danny at the controls should make for excellent results.
Danny Eslick:

"I'm super excited about getting back on a 600 again.  The Daytona Sportbike class is going to be super competitive this season and I'm going to rub some paint.  Riders Discount and Triumph have shown me that they are going to put forward a winning effort and give me every opportunity to win and thats what I intend to do."
Brian Gibson, Team Owner:

"I could not be more excited about the program we have put together for 2014.  The team, the bike and having Danny as our rider is a dream come true.  I am confident we will surprise a few people next year."
About RidersDiscount.com:
Riders Discount (www.ridersdiscount.com) is an online retailer of quality powersports gear, apparel and accessories. A company founded by racers, RidersDiscount.com ships equipment for every riding style to customers worldwide, backed by knowledgeable sales team and excellent customer service.
Triumph Motorcycles (www.TriumphMotorcycles.com) is the British motorcycle marque that produces a wide range of sport, cruiser, adventure and touring motorcycles. From the storied Bonneville to the class-leading Speed Triple and Daytona 675R, Triumph offers a blend of design, character and performance that result in truly distinctive motorcycles. First established in 1902 and now located in Hinckley, Leicestershire, England, Triumph has always set the pace for category-winning machines. The company is solely owned by Bloor Holdings Ltd. and its North American operations are based in Atlanta.
Danny Eslick (http://www.eslick69.com) The Ultimate experience for all fans of Danny Eslick Racing. Check back often for all the latest news, photos, videos, and rider profiles.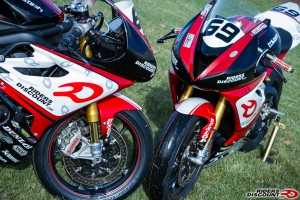 The following two tabs change content below.

We are people who live and breathe motorcycles. With licensed racers on staff, we know riding. That's how we bring you unparalleled service, knowledge & product variety. Call us or
order online
for guaranteed low prices on major brand gear, apparel & parts.
866-931-6644
Monday through Friday, 10AM to 6PM EST.

Latest posts by Riders Discount (see all)