The Riders Discount Vesrah Suzuki team will be competing at the first west coast event for AMA Pro Road Racing this year in the Great Clips West Coast Moto Jam at Infineon Raceway in Sonoma Ca this coming weekend May 4th – 6th. This will be only the 3rd visit to this race track for the team and with several top 5 finishes last year, Riders Discount Vesrah Suzuki has developed a working set-up for the teams Dunlop equipped Suzuki GSX-R 600 race-bikes for this difficult circuit.
Team Rider Benny Solis is no stranger to the Wine Country Winners Circle at Infineon as he won both of the AMA Pro Road Racing SuperSport races last year as well as qualified in pole position. Cory West netted a top 5 finish last year in Daytona SportBike and both he and Benny are hungry for the podium in the GoPro Daytona SportBike doubleheader this weekend as well as moving up in the 2012 championship point standings. Jake Lewis has never seen Infineon Raceway before and this will be a learning weekend for him as he is not competing for the West Coast SuperSport championship and can concentrate on his Suzuki GSX-R 600 without any championship pressure.
Breeann Poland – Team Manager Riders Discount Vesrah Suzuki
"Now we are getting into the season with no big gaps in the schedule for awhile so the team can hopefully carry the momentum started at Atlanta and have a good weekend out west at Infineon Raceway. I've tasted success before out in the Northern California wine country and would really like to do so again this weekend."
Benny Solis – Riders Discount Vesrah Suzuki #35
"Me personally, I love tracks that are always a challenge because of lots of elevation changes and tight turns. Infineon is definitely one of the tracks I have more fun on because it's so technical and has lots of different turns. I'm ready for the races, I really am anxious to go racing and do well because my team and I are all working hard at it. We know what we can do, our Riders Discount Vesrah Suzuki team has a strong bike and I have a great crew behind me so we know what we can achieve this weekend at Infineon. I'm looking forward to it quite a bit!"
Cory West – Riders Discount Vesrah Suzuki #57
"I'm looking forward to Infineon not only because it's a super fun track to ride, but also because it's time to finally get into the swing of things. We'll be on the track a lot coming up and I always perform better when I get to ride often. Infineon always brings a good crowd and great weather so I'll be ready to get things started on Friday!"
Jake Lewis – Riders Discount Vesrah Suzuki #85
"I'm really looking forward to going out west for the first time this year and to a new track for me at Infineon! I will have to learn the track quickly and get the bike dialed in for the races. I have been working really hard since Atlanta and I hope to carry my confidence into this weekend and get some good results for the Riders Discount Vesrah Suzuki team!"
Riders Discount Vesrah Suzuki would like to thank their sponsors for the 2012 season: Vesrah, Riders Discount, MCJ Motorsports, American Suzuki, Nielsen Enterprises Suzuki, Parts Unlimited, Penske Racing Shocks, Traxxion Dynamics Fork Components, Yoshimura, Catalyst Racing Composites, Shoei, Cortech, Sidi, Held, Motion Pro, Sudco Int., Bazzaz, Factory Pro, Maxima Racing Oils, Adjustable-levers, Vicci, Vortex, DID Chain, Zero Gravity, GPR Stabilizers, Trek Bicycles, Suzuka Tire Warmers, K&N Filters, Full Spectrum Batteries, Redbull (Benny), Oakley (Benny & Jake), Roclun (Jake), Progressive Trail Design (Cory), 509 sunglasses (Cory and team), Andrew Swenson Designs and Drippinwet.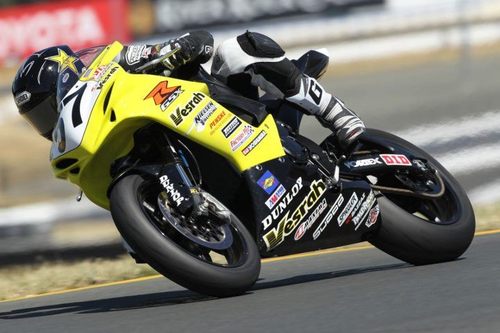 The following two tabs change content below.

We are people who live and breathe motorcycles. With licensed racers on staff, we know riding. That's how we bring you unparalleled service, knowledge & product variety. Call us or
order online
for guaranteed low prices on major brand gear, apparel & parts.
866-931-6644
Monday through Friday, 10AM to 6PM EST.

Latest posts by Riders Discount (see all)