The Riders Discount Vesrah Suzuki team after a very long winter break is ready to start the 2012 AMA Pro Road Racing season at Daytona International Speedway later this week March 15 – 17th.
In the AMA Pro Daytona SportBike class the #57 of Cory West returns with the team much wiser after last years narrow defeat and plans to climb to the top step of the Daytona 200 podium. Benny Solis will be making his AMA Daytona SportBike class debut sporting his familiar #35 in the Daytona 200. Benny is ready after a winter of training hard and riding many events on the west coast on his Riders Discount Vesrah Suzuki practice bike to show that this new comer is ready to do battle for the lead position. Bostjan Skubic on the #100 bike is trying a different approach for 2012 by joining with a U.S. based team for the Daytona 200 on a Riders Discount Vesrah Suzuki GSX-R 600, which will give him top-notch equipment to show what he is capable of.
Jake Lewis #85 will be making his AMA Pro Racing debut competing in the AMA Pro SuperSport class. With Jake's natural talent and the support of a new team he is a sure bet to stand on the podium in Daytona. Kyle Wyman in the AMA Pro XR1200 class will be trying to repeat his winning performance from 2011 at Daytona aboard the #33 machine. Kyle knows what it takes to win this race and will be right there until the checkered flag drops. Taylor Knapp will be back competing in the American SuperBike class which he competed in during the 2010 season with Riders Discount and with the knowledge he gained in 2011 racing with the Vesrah Suzuki team in the Daytona SportBike class he will be more than prepared to make a strong showing at Daytona.
Brian Gibson – Owner Riders Discount
"Needless to say that I am super pumped about our AMA effort this year and I am looking forward to watching our riders battle for podium positions. Unfortunately it is going to be from my couch at home instead of pit wall for the first round but I plan on watching with fellow motorcycle nuts such as myself. The team will probably hear us cheering in Michigan all the way down in sunny Daytona."
Mark Junge – Team Owner Riders Discount Vesrah Suzuki
"Having entries in every class will be difficult but I know that my crew can handle it and we will be on top of everything. I love the endurance aspect of the 200 and with our years of experience endurance racing we should have some excellent pit stops."
Riders Discount Vesrah Suzuki would like to thank their sponsors for the 2012 season: Vesrah, Riders Discount, MCJ Motorsports, American Suzuki, Nielsen Enterprises Suzuki, Parts Unlimited, Penske Racing Shocks, Traxxion Dynamics Fork Components, Yoshimura, Catalyst Racing Composites, Shoei, Cortech, Sidi, Held, Motion Pro, Sudco Int., Bazzaz, Factory Pro, Maxima Racing Oils, Adjustable-levers, Vicci, Vortex, DID Chain, Zero Gravity, GPR Stabilizers, Trek Bicycles, GP Tech, Active, Suzuka Tire Warmers, Redbull (Benny), Oakley (Benny & Jake), Roclun (Jake), Progressive Trail Design (Cory), 509 sunglasses (Cory and team), Andrew Swenson Designs and Drippinwet.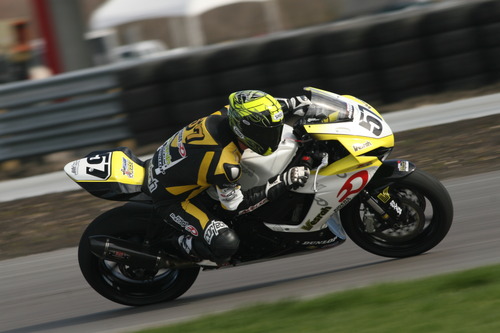 The following two tabs change content below.

We are people who live and breathe motorcycles. With licensed racers on staff, we know riding. That's how we bring you unparalleled service, knowledge & product variety. Call us or
order online
for guaranteed low prices on major brand gear, apparel & parts.
866-931-6644
Monday through Friday, 10AM to 6PM EST.

Latest posts by Riders Discount (see all)