Here's a photo sequence of our final pit stop during the AMA Pro Road Racing 2014 Daytona 200. First, the Riders Discount Triumph Motorcycles crew for the 200 –
Rear tire/rear stand: Walker Jemison (Mr. Energy)
Rear axle: Boyd Bruner (aka "Boydo")
Rear tire catcher: Taylor Knapp (AMA SBK fast guy)
Front tire/front stand: Richard Stanboli (owner at Attack Performance)
Front axle: Brian Gibson (owner at Riders Discount)
Front tire catcher: Rick Matheny (crew chief for Hayden Gillem)
Gas can: Shawn Keene (Mr. Positive)
Fire Extinguisher/Safety Officer: Seamus Taaffe (Brembo Engineer)
The video of this stop can be seen here –https://www.youtube.com/watch?v=hvLJthG7SJc
Here you see the crew preparing as Danny comes down pit road.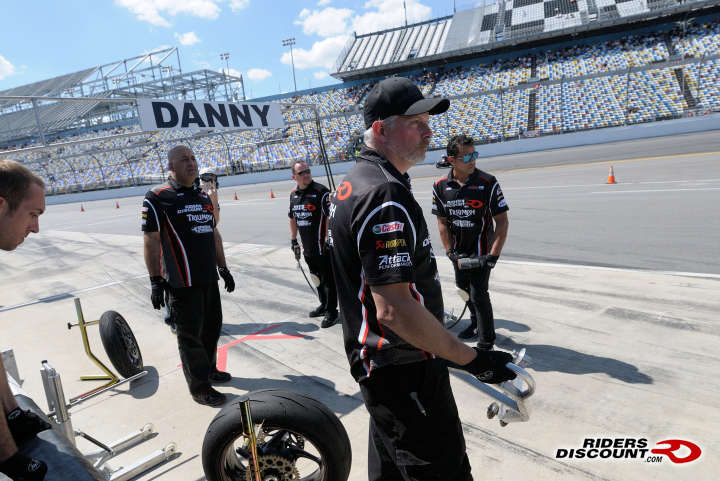 Richard and Walker have the stands under the bike and Danny is getting ready to jump off (trying to not kick Boyd in the head).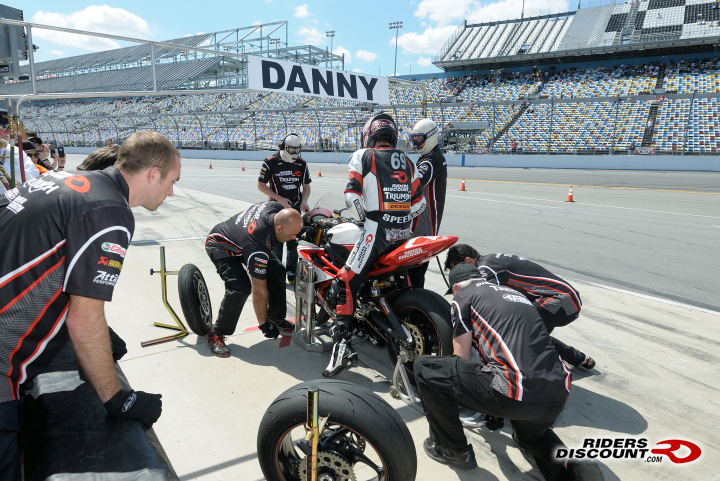 Danny is off the bike, Shawn is dropping gas, Walker and Richard are getting ready to pull the wheels.  You can see that Walker is grabbing the chain in front of the rear sprocket and will be pulling the chain back and to the side. At the same time Boyd is pulling the rear axle.  At the front you can see Richard has a grasp on the front wheel. After Brian pulls the front axle Richard will literally pull the front wheel straight forward and out.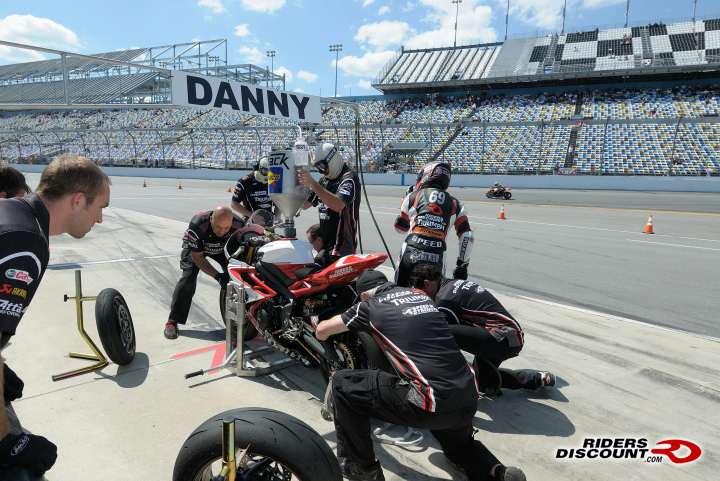 Danny is grabbing his water while Walker is rolling the old tire over to Taylor and is grabbing the scrub tire we have waiting. You can see Richard is ahead of the rear already and is pushing the front tire into place. He will then grab the lower fork legs/calipers and push them in at the same time while centering the wheel.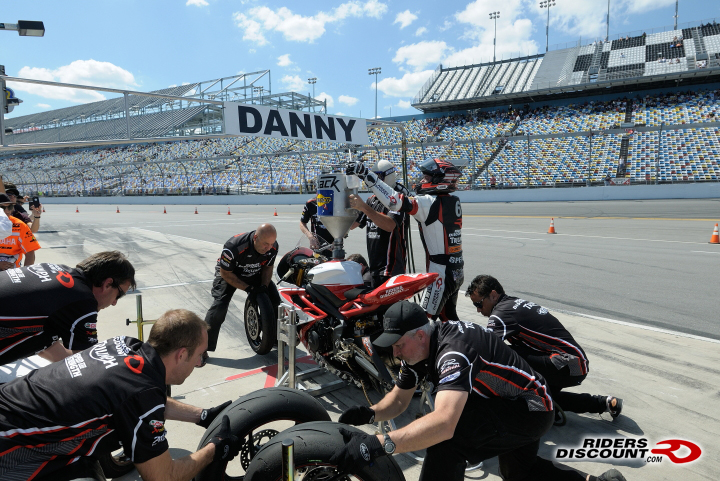 Richard/Brian are done with the front change and dropping the lift stand while Shawn finishes fuel. You can see that Walker is threading the chain across the bottom of the rear sprocket while rotating the wheel forward.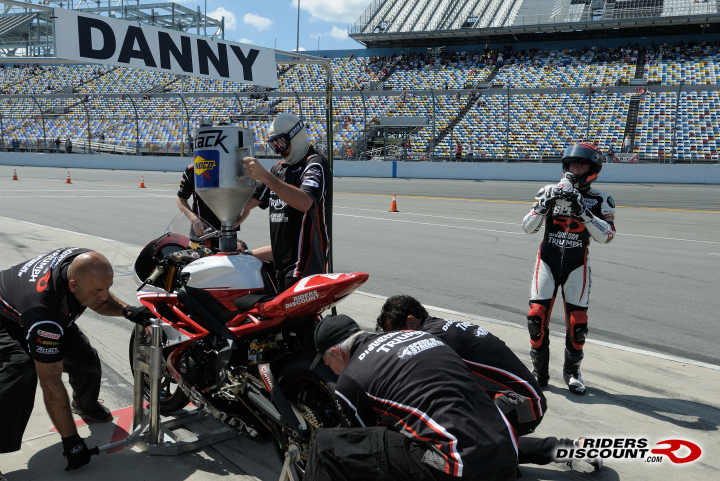 Tires and fuel are done and Danny is re-mounting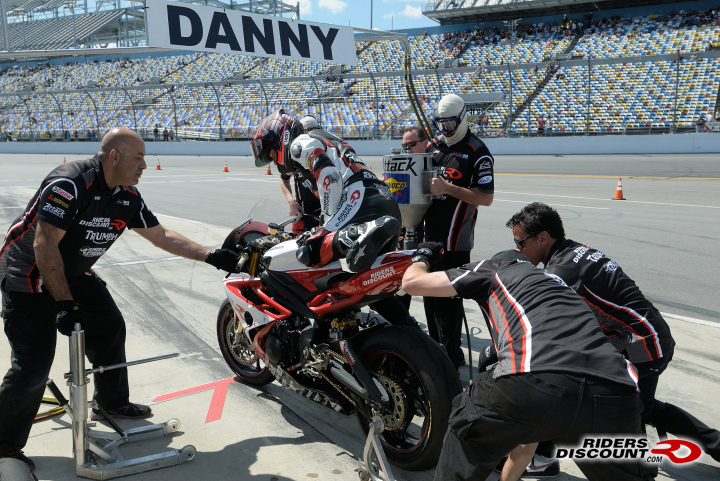 Off we go and on the way to Victory Lane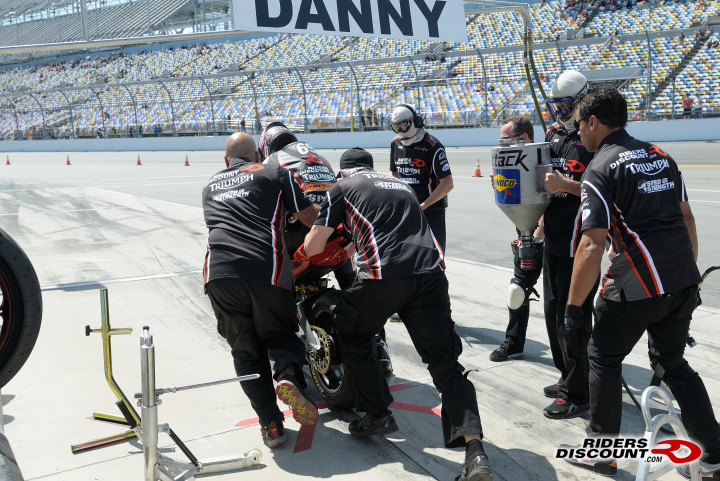 The following two tabs change content below.

We are people who live and breathe motorcycles. With licensed racers on staff, we know riding. That's how we bring you unparalleled service, knowledge & product variety. Call us or
order online
for guaranteed low prices on major brand gear, apparel & parts.
866-931-6644
Monday through Friday, 10AM to 6PM EST.

Latest posts by Riders Discount (see all)